2023 Spark Golf at Sweet Water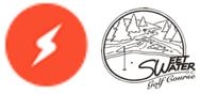 Scoring Format
Spark is a recreational golf league focused on having fun. Part of the fun is friendly competition. We aim to keep the competition fair and enjoyable for everyone, no matter their skill level.
Each round has two games happening for all players - a team game and an individual game. In the team game, 2-person teams play a net best ball format. Each player plays their own ball into the hole. This is NOT a scramble. After each ball is holed, the team enters each player's gross (actual) score into the Spark app which calculates the net score for each player based on current handicaps. The team score used for the hole is the better of the 2 net scores. The individual game is the net score for each player on their own ball.
The max score for each player on every hole is displayed in the Spark app. If this is reached prior to the ball being holed, the player should pick up to increase pace of play.
Skins will also be available each round. A skin is awarded to an individual who has the lowest non-tied, net score on a hole during the round.
To join go to https://www.spark.golf/lw/Mm0A
Event Properties
| | |
| --- | --- |
| Event Date | 05-05-2023 |
| Registration Start Date | 03-07-2023 |
| Cut off date | 05-03-2023 |
| Individual Price | For as little as $8.10 per round with mini pass, pre-pay for as little as $21.60 per round (includes cart) |